I met Natalie Krizo at the Midd Summer Market having been drawn in by her beautiful display of Soli Naturals skin and haircare products.  I was intrigued by her shampoo bars. I knew about the benefits of bar shampoos but hadn't had luck with the one I'd tried before.  
I asked lots of questions, knowing I also had them in mind for the shop.  She talked about the differences between her shampoos and the one I had tried. Her knowledge and thoughtfulness she put towards creating these shampoos made me eager to test it out. I bought a bar, and tried it on my thick, longish hair. 
I was surprised by how much it lathered up. It usually takes a fairly good amount of shampoo for me to get all my hair soaped up. Yes, it's that thick (for which I am so thankful). When I tried the shampoo bar, I ran it all across my wet head and a bit towards the ends. I massaged my scalp, got my hair a bit wetter, and worked up a lather, eventually pulling all of my hair up onto my head to get lathered up. That's all it took.
Added bonus?  It immediately felt healthier on my hair...a different kind of clean. It was the difference between cleaning your hair instead of just stripping away the healthy oils like typical bottled shampoos.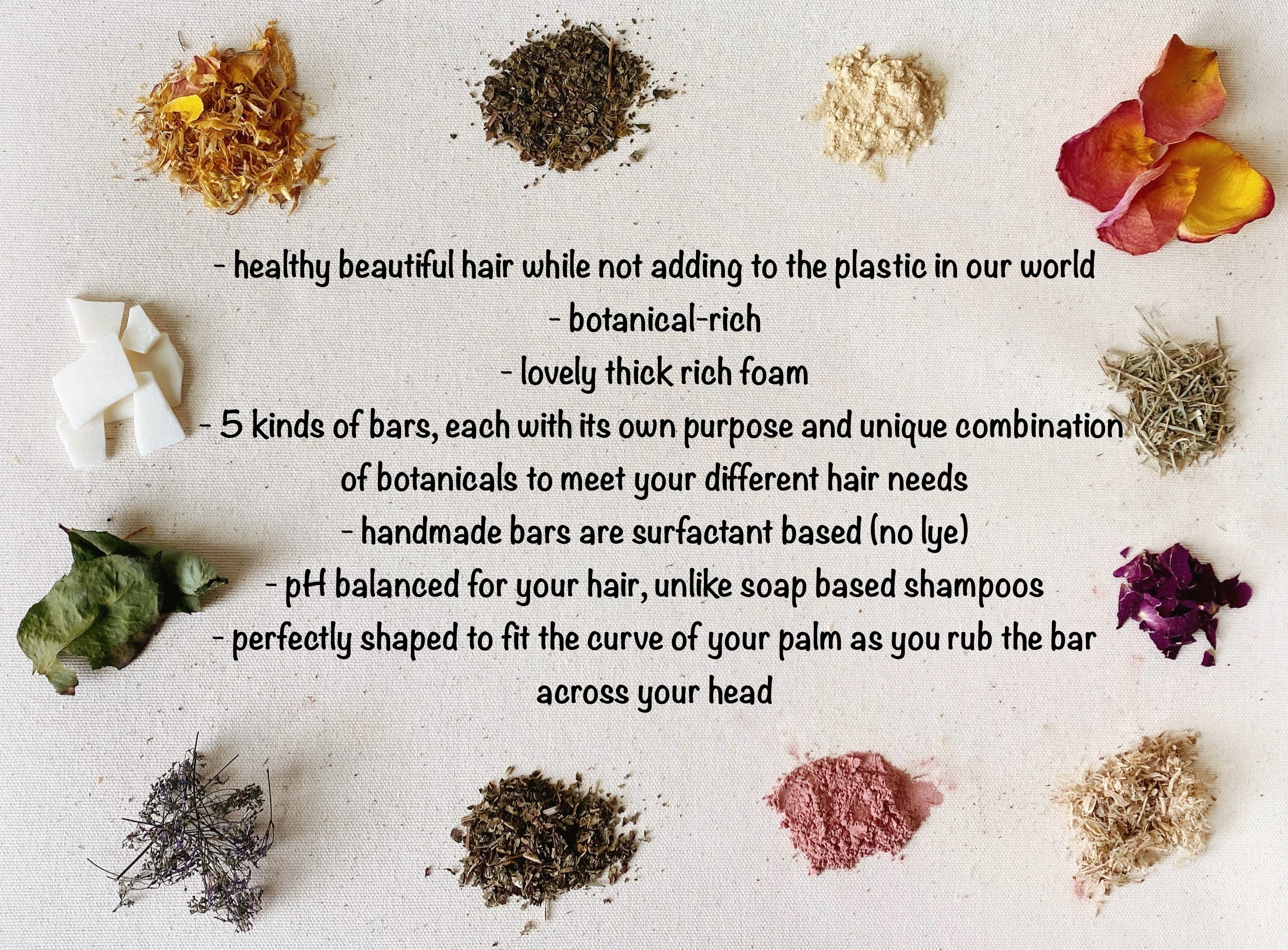 I knew we had to get these into the shop.  I reached out to Natalie, and we sat down at Little Seed over some coffee to talk about getting her shampoo and conditioning bars into the shop!  One of the benefits of working with local producers is that you actually get to meet and know the makers behind the product. I loved her passion, her goals, and her story.   
When I believe in a product and I'm excited by the person behind it, I want to see them succeed!  I am super stoked that we get to be the next step along her business journey as she dips her toes into the retail space.  
I love Natalie's products and believe that she has what it takes to follow the path she envisions for her business.  And, that's kind of what we're all about at Vermont's Own... supporting Vermonters as they follow their passions and try to make a living.
It was such a pleasure chatting with Natalie, I just had to share her story with you. 
All the best, Abbey
Get to know Natalie in her own words...
"Central Vermont has been my home for the last 40 years. Once I moved from the Midwest as a young kid in the 80s, I never looked back. The beauty and calmness of Vermont spoke to me and made me feel safe. Life isn't always easy in Vermont, as it isn't anywhere you go, but here you can find lots of people who care for the land, their peers, and themselves. This became ingrained in me and helped shape my perspective on life. For me, the only thing that Vermont really lacks is the ocean, but in a way that is part of its charm. We don't have people clamoring their way into our quaint towns every summer, taking over our home, just to access the beach for a few days a year. However, I am one of those people that grew up summering on the ocean, the ocean is in my blood, and therefore it is a blessing and a curse for someone like me. Someone who loves the quiet beauty of the Green Mountain State, yet longs for the rumble of the ocean waves as well.


It is this background that helped me frame my mission for Soli Naturals. After looking around my bathroom one day, I was struck by how much plastic I was surrounded by. I am someone who considers myself very conscious about limiting the amount of plastic I bring into my house. I do my best to buy good quality products, that contain what I think are quality ingredients that aren't known toxins. But everything comes in plastic! So if I was treating my body right, I wasn't able to treat the earth right. I didn't want to make a choice between the two. But the more I looked, the more frustrated I became. I stopped buying my regular products, but didn't have anything to replace them with.

I decided to give body products a go. The more I dug in, the more excited I became and more frustrated I became with the large corporations for manipulating its customers. Sure something might have jojoba oil, but it also contained a huge list of chemicals that are unpronounceable, but more importantly not good for you! I questioned what all those chemicals were for and was determined to simplify and get back to basics. We had lived on this planet for tens of thousands of years without all these man made chemicals, so why do we need them now?! More and more of my loved ones are getting diagnosed with one cancer or another these days. I asked my friend if there was a known cause for her type and her response was, "If you look it up, the first cause is toxins, food and environmental." That just scared me! Not only are we poisoning our earth with all the plastic, but we are poisoning our bodies with so many toxins, many of them man made. This reinforced my desire and need to make products that people can trust and that mother earth has provided.

I am also determined to find alternative products to decrease the amount of preservatives needed to maintain the products' integrity. Preservatives are the most common culprits for Phthlates and Parabens. Any product that contains water or will be exposed to water must contain a preservative to limit microbial bacterial and fungal growth. Therefore, I am required to add some to my bars and toners, however, I am very choosy about the preservatives I use. All my other products are specifically made to not require preservatives, minimizing the amount of preservatives you expose your skin too.

Join me in enjoying the amazing gifts of mother earth in my natural skin, hair and home products. As you discover the loveliness of natural clays, oils, butters, botanicals, and essential oils, you will also be helping eliminate plastic from our environment. All products are packaged in paper or glass, using only plastic for the dispensing closures (if and when I can find alternatives, you can bet I will). My hope is that instead of throwing out your bottles, you can find alternative uses or even send them back for a refill! Most packing material is recycled from packages I receive.

We can make a difference and be beautiful too!
Natalie Krizo"